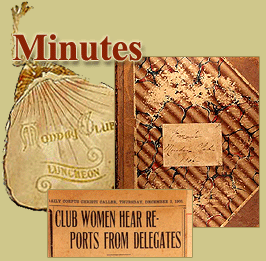 The Woman's Monday Club minutes date back to 1893. This Woman's Monday Club is comprised of many minute books which include a years span from 1893 through 1947. These minutes are stored in the archives and can be viewed by request of the Local History Department.
The minutes are mostly handwritten and also contain news clippings from Corpus Christi and surrounding newspapers. The minutes include topics of discussion such as ongoing projects that benefited the community, their constitution and bylaws, and their proposed improvement to the City of Corpus Christi.
The minutes have been reviewed and particular dates of interest have been chosen to be included in the links below.
Box 1.01, 1893-1908

Box 2.01, 1918-1919

Box 3.01, 1929-1931

Box 4.01, 1939-1940

View Item

Box 1.02, 1906-1909

Box 2.02, 1919

Box 3.02, 1933-1934

Box 4.02, 1940-1941

View Item

Box 1.03, 1906-1912

Box 2.03, 1920

Box 3.03, 1934-1935

Box 4.03, 1942

View Item

Box 1.04, 1909-1912

Box 2.04, 1921

Box 3.04, 1935-1936

Box 4.04, 1942-1943

View Item

Box 1.05, 1912-1915

Box 2.05, 1922

Box 3.05, 1936-1938

Box 4.05, 1943

View Item

Box 1.06, 1915-1918

Box 2.06, 1922-1925

Box 3.06, 1938-1939

View Item

Box 4.06, 1943-1944

View Item

Box 2.07, 1925-1927

Box 2.08, 1926-1929