Woman's Monday Club Scrapbook
Page 16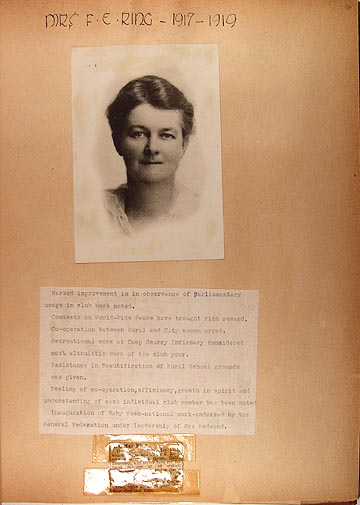 Marked improvement in in observance of parliamentary usage in club work noted.
Contests on World-Wide Peace have brought rich reward.
Co-operation between Rural and City women urged.
Recreational work at Camp Scurry Infirmary considered most altruistic work of the club year.
Assistance in Beautification of Rural School grounds was given.
Feeling of co-operation,efficiency , growth in spirit and understanding of each individual club member has been noted
Inauguration of Baby Week-national work-endorsed by the General Federation under leadership of Mrs. Redmond.
_____________________________
Mrs. May Ring
The body of Mrs. May Ring, widow of the late Frank E. Ring, who died in Los Gatos, Calif., Thursday, will arrive here for funeral services at 10 o'clock Wednesday morning at the David T. Peel Funeral Home. Burial will be in Rose Hill Cemetery. Mr. and Mrs. Ring resided in Corpus Christi until about 20 years ago. Ring died last June.