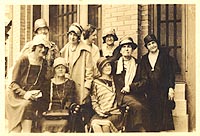 The Woman's Monday Club collection is comprised of materials which date back to the 1890s and include: correspondence, financial records, member presentations, newspaper clippings, scrapbooks, photographs, writings, misc. documents, state and international flags, audio vinyl records, information on other Corpus Christi organizations including the City Federation of Corpus Christi, physician's book, various Xeroxed files pertaining to the Woman's Monday Club, Woman's Monday Club and Fortnightly Circle Minutes.
Texas Federation of Women's Clubs manuals, manuals, reports, handbooks, annuals, convention programs, yearbooks, history books.
General Federation of Women's Clubs Awards, reports, convention programs, Good Neighbor Tour Materials.
(Spelling and grammar have been copied exactly from the original documents)
Jessica Brannon-Wranosky