Woman's Monday Club Scrapbook
Page 17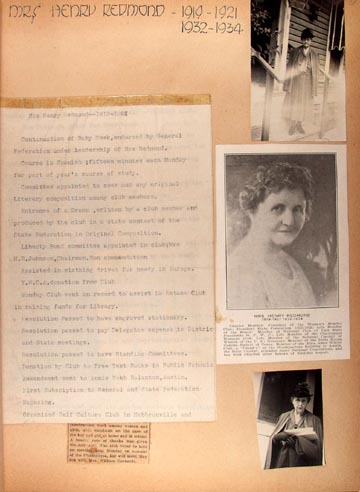 Mrs. Henry Redmond--1919-1921
Continuation of Baby Week, endorsed by General Federation under leadership of Mrs. Redmond.
Course in Spanish ;fifteen minutes each Monday for part of year's course of study.
Committee appointed to seek out any original Literary composition among club members.
Entrance of a Drama ,written by a club member and produced by the club in a state contest of the State Federation in Original Composition.
Liberty Bond committee appointed in club;Mrs. H.B.Johnson,Chairman.Won commendation
Assisted in clothing drives for needy in Europe.
Y.W.C.A.donation from Club
Monday Club went on record to assist La Retama Club in raising funds for Library.
Resolution Passed to have engraved stationary.
Resolution passed to pay Delegates expense to Distric and State meetings.
Resolution passed to have Standing Committees.
Donation by Club to Free Text Books in Public Schools
Ammendment sent to Annie Webb Balanton,Austin.
First Subsription to General and State Federation Magazine.
Organized Self Culture Club in Hebbronville and Monday Club asked to sponsor the newly organized club.
Won District prize for Year book.
Sent written approval to County Commissioners in their retaining Julia Caldwell as landscape gardener for
County Court house grounds;which won prize for several years .
Commendation of P.T.A. Association in the preparing and serving of hot lunches to school children.
Monday Club inaugurated plan or custom of giving five dollar gold piece to each Mexican graduate at the High School.
Ammendment formed and sent to raise teachers salaries
Twenty -five cents per caita given by each member for Education Fund.
Centurship of all movies in C.C.
Contribution to Spohn Sanitarium and help given in soliciting others;during the construction.
Resolution commending Mayor Boone in his campaign to clean up anything which might be detrimental to our city.
Communication sent Senator and Representative regarding Minimum Wage Laws for Women and Children in Texas.
Urged the placing of a regular course of music in our Public Schools.
Contibution to Recreational Canteen of Red Cross.
Club pledged and paid its pledge to State Federation Building Fund-$100.00
Club placed markers on trees in South Bluff Park.
____________________________
Marked improvement in in observance of parliamentary usage in club work noted.
Contests on World-Wide Peace have brought rich reward.
Co-operation between Rural and City women urged.
Recreational work at Camp Scurry Infirmary considered most altruistic work of the club year.
Assistance in Beautification of Rural School grounds was given.
Feeling of co-operation,efficiency , growth in spirit and understanding of each individual club member has been noted
Inauguration of Baby Week-national work-endorsed by the General Federation under leadership of Mrs. Redmond.