Woman's Monday Club Scrapbook
Page 18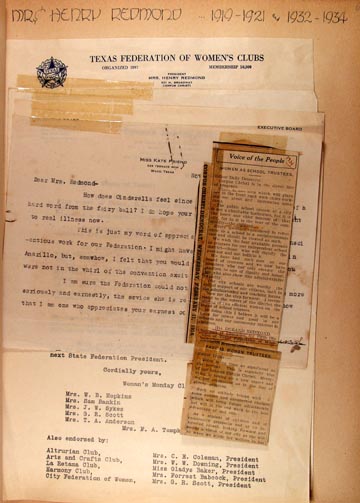 MISS KATE FRIEND
525 TERRACE ROW
WACO, TEXAS
November 22.
Dear Mrs. Redmond
How does Cinderella feel since she returned to the ashes of a hard word from the fairy ball? I do hope your indisposition does not amount to real illness now.
This is just my word of appreciation for your untiring, conscientious work for our Federation. I might have said this at adjournment in Amarillo, but, somehow, I felt that you would appreciate it more, when you were not in the whirl of the convention excitement.
I am sure the Federation could not have a president who takes more seriously and earnestly, the srvice she is rendering us.I want you to know that I am one who appreciates your earnest consecration to this work.
Your true friend,
Kate Friend
________________
CORPUS CHRISTI DEMOCRAT, WEDNESDAY, FEBRUARY 11, 1914
Voice of the People
WOMEN AS SCHOOL TRUSTEES.
­­­______
Editor Daily Democrat:
Corpus Christi is in the direct line of progress.
There is one step which will place her in the front rank with cities working out great and interesting questions.
The public school system of a city is not a charitable institution, but it is the heart and chief interest of that city, for in it is the best of the communitythe children.
Every question considered in reference to a school is a social-economic one and should be treated as such.
We wish the best available persons as trustees for our independent school districtthose who will dignify the position and not belittle it.
We have had such men on our board of trustees and we now have members who not only elevate the position to one of dignity and honor, but who also show fine administrative capacity.
Our city schools are worthy the united support of our citizens, both in the administering and teaching forces.
Now for the step forward: I recommend to the voters of the district the placing of two efficient women on the board of school trustees.
In doing this I believe it will be a force for power and good to our schools and our community interest in children.
IDA DURAND REDMOND
Chairman of Education for Fifth District of Texas Federation of Women's Clubs.
_________________________
EXECUTIVE BOARD EXECUTIVE BOARD
MRS. J. B. PONDROM MRS. W. W. JONES
MRS. WM. GERHARDT MRS. L. D. GARRISON
MRS. G. R. SCOTT MRS. HENRY REDMOND
MRS. GORDON BOONE MRS. SAM RANKIN
Woman's Monday Club
MRS. FRANK A. TOMPKINS, PRESIDENT
MRS. E. L. BERNARD, RECORDING SECRETARY
MRS. C. C. STONE, TREASURER
MRS. W. B. HOPKINS, CORRESPONSING SECRETARY
Corpus Christi, Texas
To the Club Women of Texas:
Through the solicitation of many of the prominent club women of Texas, Mrs. Henry Redmond has consented to permit her name to go before the Texas Federation of Women's Clubs as a candidate for office of president.
The Woman's Monday Club of Corpus Christi heartily endorses Mrs. Redmond's candidacy.
For many years Mrs. Redmond has been identified with educational work, and as president of the Woman's Monday Club, she was recognized as a leader in club circles of Corpus Christi; as district chairman of education, her influence was felt in every club in the Fifth district; as state chairman of education, she gave the outstanding report of the nation. Her capable, efficient service has stamped her a the woman who can conscientiously accept the great responsibilities of state president.
Our interest in Mrs. Redmond is based not only on our knowledge of her worth as a club-woman, but on our own personal appreciation for her as a woman of rare mentality, scholarly attainments and marked executive ability.
With great pleasure we make this announcement, and we confidently anticipate your endorsement of her as our next State Federation President.
Cordially yours,
Woman's Monday Club Campaign Committee,
Mrs. W. B. Hopkins Mrs. Wm. Gerhardt
Mrs. Sam Rankin Mrs. A. M. French
Mrs. J. W. Sykes Miss Edna Rudolph
Mrs. G. R. Scott Mrs. Gordon Boone
Mrs. T. A. Anderson Mrs. J. B. Pondrom
Mrs. F. A. Tompkins
Also endorsed by:
Altrurian Club, Mrs. C. E. Coleman, President
Arts and Crafts Club, Mrs. W. W. Downing, President
La Retama Club, Mrs. Gladys Baker, President
Harmony Club, Mrs. Forrest Babcock, President
City Federation of Women, Mrs. G. R. Scott, President
__________________
TEXAS FEDERATION OF WOMEN'S CLUBS
ORGANIZED 1897 MEMBERSHIP 50,000
PRESIDENT
MRS. HENRY REDMOND
601 N. BROADWAY
CORPUS CHRISTI
January 24, 1924
Dear Mme. President:
You will recall that when Cardinal Mercier came to this country directly after the Armistice, he seemed to all of us an heroic figure who had stood steadfast for right, justice, and civilization in the midst of outrage, injustice and barbarism. When we asked him eagerly what we could do for him he sadly replied that he did not know how Belgium could ever replace her main source of enlightenment and civilization  the famous Library at Louvain.
Theodore Roosevelt, Cardinal Gibbons, and Chief Justice White were all members of the committee which then assured him that the United States would replace the library, and make it a memorial in Belgium to 50,000 of our bravest who made the supreme sacrifice in the Great War. We women volunteered to contribute our share toward completing this enterprise.
It is incomplete! Only one wing is standing, stark and silent among its scaffolding, and all building activities have ceased. Shall we let it go at that?
Won't you bring this matter before your club, and ask them to give some gift, however small, from every member of your club, because this is an opportunity for the entire womanhood of America to express in permanent form the hope that peace may reign among the nations of the world forevermore. It is the aggregate of a great many small gifts that will make the Library at Louvain truly America's symbol of the brotherhood of man.
Sincerely yours,
Ida Durand Redmond